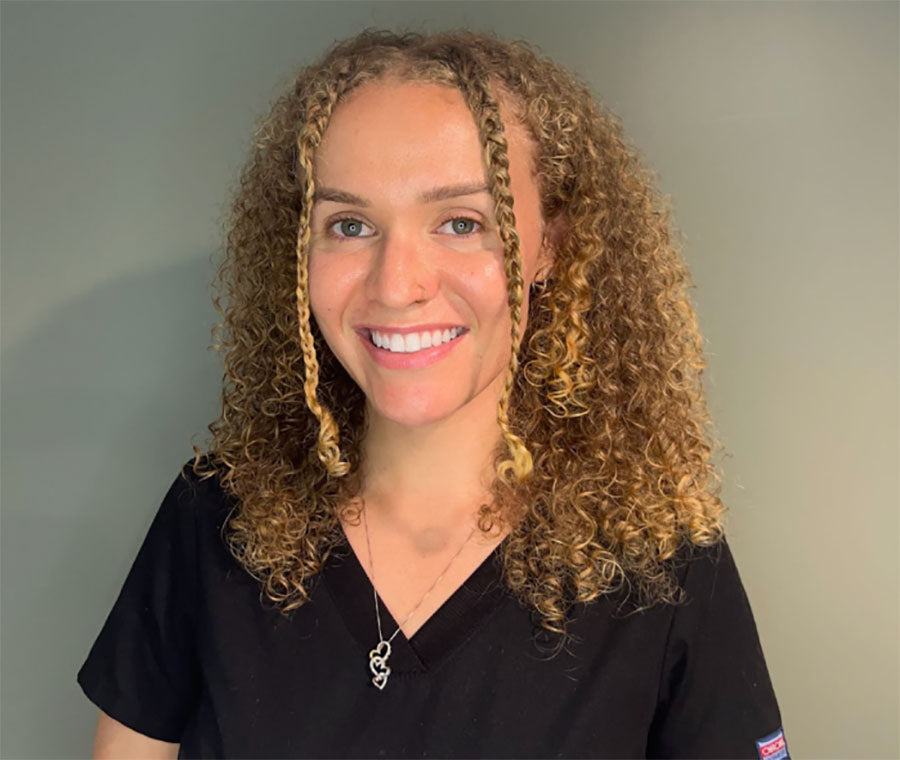 IN CONVERSATION WITH
ESTHETICIAN
KAHLEY HEMMER
San Diego-based licensed esthetician and certified acne specialist Kahley Hemmer (
@kahleycares
) shares with Cay Skin about the driving force around choosing her profession, skin care and skin health, and key suncare reminders for this summer.
About Kahley, In Her Own Words
My passion for esthetics developed throughout my own personal skin journey. I have struggled with acne since I was 13. From countless dermatologist visits, (desperately seeking a solution) to the numerous topical & oral treatments prescribed to me, I endured years of low self-esteem. My personal experience has enabled me to not only understand but to have the ability to empathize with my clients the psychological effects that acne, as well as other skin conditions, can have on an individual. I have been able to transform what once was my biggest insecurity into the driving force behind "Kahley Cares." Serving in this field is by far my proudest contribution to this world. I've found my passion, my reason, and my why. I will forever be a lifelong learner. My purpose is to support, coach, and consult anyone who needs someone who cares.
Kahley's suncare reminders
1

Sunscreen is important for EVERYBODY

Especially if you have any skin concerns that you're trying to make changes to. If you have fine lines, wrinkles, acne or dark spots, the sun isn't going to be your friend. I'm not saying that you can't go in the sun - but when you're out there, you need to be protected so that your dark spots don't get darker, your acne doesn't get inflamed, and your fine lines and wrinkles don't get deeper. Cay Skin is non-comedogenic (it won't clog your pores). A lot of brands claim to be non-comedogenic but still have pore-clogging ingredients.

One ingredient that is in every Cay Skin product is Sea Moss. Although it's a popular ingredient to ingest, not everyone knows that it's good for your skin topically as well. Sea Moss contains 92 essential minerals that our body needs, as well as multiple vitamins which function to help improve the health of our skin. To name a few: Vitamin A (increases skin elasticity), Vitamin B12 (maintains proper nerve function), and Vitamin C (reduces the effects of photo-damage).

One tip I give to clients is if they have Sea Moss, to use it as a face mask every once in a while or purchase products that use it to receive its healing properties! The other two ingredients popular in Cay Skin's products are Vitamin E, which is responsible for hydrating and protecting our skin cells and aloe, which has been used as herbal medicine and is referred to as "nature's band-aid" because of its hydrating, soothing, and anti-inflammatory properties.

2

Just because you're not directly in the sun doesn't mean you're escaping its rays.

You could be driving your car and the rays are coming through the windows, or even though it's cloudy, your skin can still get damaged from the sun. There are two types of sun radiation: UVA (responsible for aging) and UVB (responsible for sunburns). We're all going to age no matter what but we need to protect ourselves from both.

3

Think of your skin as your armor and first line of defense.

The skin is the largest organ on your body, so it's critical to protect your skin from harmful UV rays that link to melanoma and other forms of skin cancer. Cay Skin's SPF products contain nutrient-rich ingredients for skin too, such as Sea Moss, which helps strengthen the skin's moisture barrier. In addition, Isle Glow Face Lotion SPF 45 also has a subtle sheer shimmer and is lightweight that will absorb into your skin and won't leave white cast!

4

Don't forget your neck!

Oftentimes people forget to rub sunscreen on their neck. The skin on our neck is very thin compared to the rest of our face and body, so this body part is one of the first areas to show early signs of aging very quickly.
Her biggest skin health tip
The biggest lifestyle tip I can give anyone when it comes to their skin health is to be intentional. Note what your specific skin goals are, then act accordingly. Making sure your habits align with how important skin health is to you. It can be as little as what detergent you wash your pillowcases with or as big as having a conscious diet. You are in charge of your health and wellness. Whatever decisions you make, make it make sense for you.