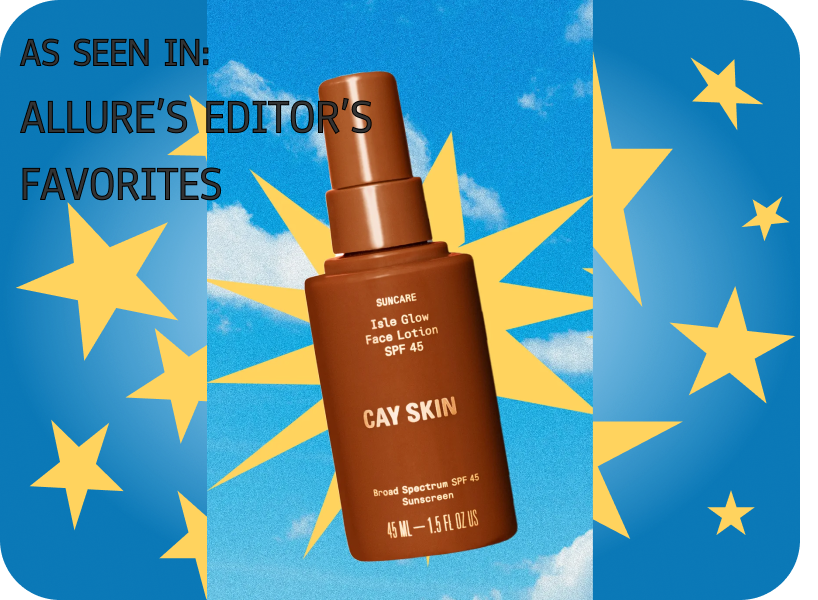 Allure's Editor's Favorite
We are so grateful that Isle Glow Face Lotion SPF 45 is on this go-to list of recommended sunscreens from Allure's Beauty Editors! As they say, great SPF is "the biggest skin-care trick we have up our sleeves" 👏🏼 Could not have said it better ourselves! 
See what they had to say about Isle Glow Face Lotion SPF 45:
It was love upon first swipe for
Allure
commerce editor Sarah Han when she got her hands on Cay Skin,
Winnie Harlow
's new sun-care brand. "Any sunscreen (with SPF 30 or higher) is arguably 'good' sunscreen but Isle Glow Face Moisturizer SPF 45 leaves a healthy sheen that simply can't go unpraised," she says. "It hydrates without attracting attention to oily areas, sinks in immediately, makes my skin look more awake, and doesn't pill underneath makeup."
Isle Glow stands out due to its golden, pearlescent sheen that gives skin a subtle boost of vacation-like glow. In fact, this hydrating formula is spiked with plant-based nectar straight from the Caribbean, where Harlow's familial roots lie, as well as watermelon extract, sea moss, and cocoa seed butter, to keep skin feeling baby-soft through and through.
Thanks so much,
Allure
!! 🧡
🧡
🧡
🧡
🧡