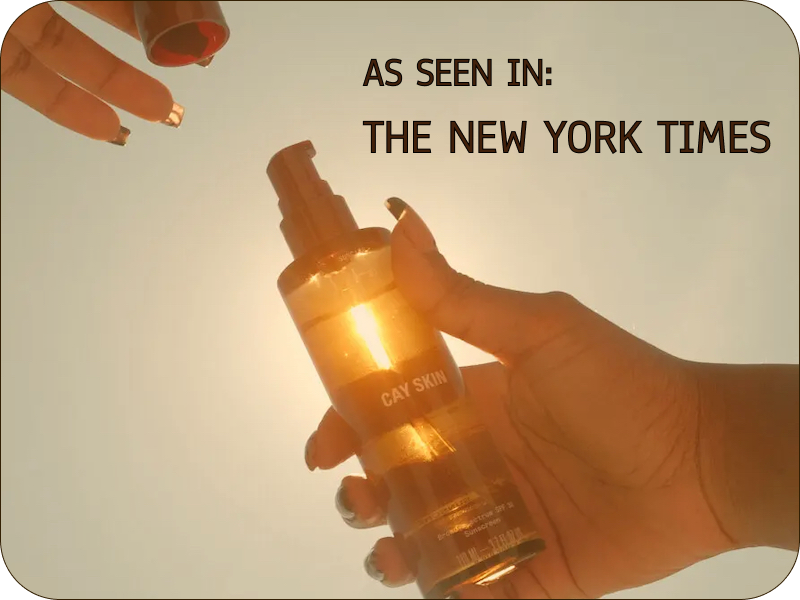 The New York Times
Did you see the news? Cay Skin got a big shout out in the New York Times! Isle Body Oil SPF 30 is their choice for how great SPF oil can be to protect your body from the sun. 
What about SPF oils?
Sunscreen oils have an elegant feel and leave a soft sheen on the skin. "They give a nice hydration," said Penny Coy, a vice president of merchandising at Ulta Beauty. "They tend to have a really beautiful glow. Who doesn't want that on your arms and legs?"
A noteworthy new option is Isle Body Oil SPF 30 from Cay Skin, a recently introduced sun-care collection that was founded by the model Winnie Harlow. (Ms. Harlow has vitiligo, a condition that causes patches of skin to lose pigment; her line promises to suit all skin tones and sensitive skin). The oil is pleasantly light and has moisturizers like argan and coconut oils in its formula.
And don't forget, that SPF number matters! All Cay Skin SPF products have a minimum rating of 30.
What strength SPF should I be wearing?
"What we recommend is sticking to a SPF of 30 and reapplying it every two hours," said Dr. Silvia Mancebo, a dermatologist at Weill Cornell Medicine and NewYork-Presbyterian in New York. It takes an ounce of sunscreen to cover the entire body, she said, which means taking the product with you if you're going outside for several hours.