My Story
By the time we start thinking about suncare it may be too late.
I learned this while on location in the Bahamas, where I skipped applying sunscreen for fear of the white cast SPF can leave on skin. I ended up with some great photos—and a painful sunburn that required emergency medical treatment. And the worst part: The sun damage permanently altered the pattern of my vitiligo, a treasured part of my identity as a woman, activist and model.
I left that shoot behind but kept coming back to one question: Why should we have to choose between sun protection and gorgeous, glowy skin? I refused to compromise ever again and made it my mission to make sure that no one else has to either. Three years later, I launched Cay Skin: Daily suncare that protects, nourishes, and illuminates all skin tones, types and conditions. No heaviness. No pore-clogging ingredients. No white cast. Ever.
This is my skin story. You have one, too. I started Cay Skin because compromising should have no part in our stories.
I ALWAYS wear Isle Glow Face Lotion SPF 45 with or without makeup because it looks beautiful and feels THAT GOOD… and whenever you see me glowing all over on a red carpet, know that I've mixed Isle Glow Body Lotion SPF 45 and Isle Body Oil SPF 30 to get that head-to-toe Island Gal Glow that reminds me of home.

Thank you, from the bottom of my heart, for supporting me and my vision. I can't wait for you to experience our products.
"I HAVE MY FLAWS, BUT I EMBRACE THEM AND I LOVE THEM BECAUSE THEY'RE MINE."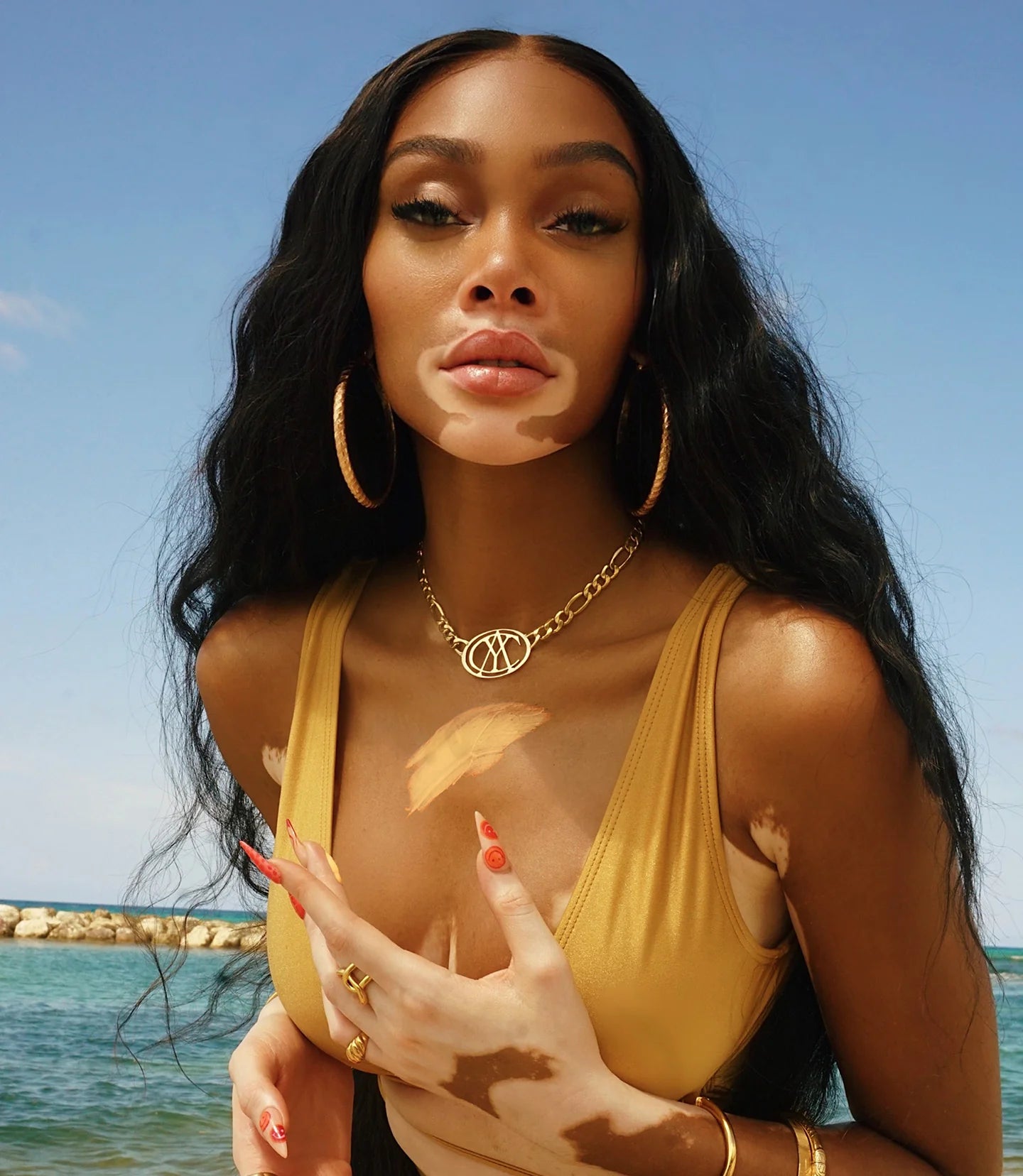 MEET WINNIE HARLOW
Winnie Harlow is one of the world's most sought-after supermodels, influencers and inclusive beauty activists. She has walked the runways for the world's top fashion brands, graced the covers of countless fashion magazines and was recently named one of Forbes' "30 Under 30".
Winnie is a highly respected advocate for self-acceptance and inclusivity, and a trailblazer who has changed the face of fashion and beauty by embracing her autoimmune disorder and skin condition Vitiligo. This condition has made her exceptionally passionate and serious about creating better-for-you skincare and suncare protection.